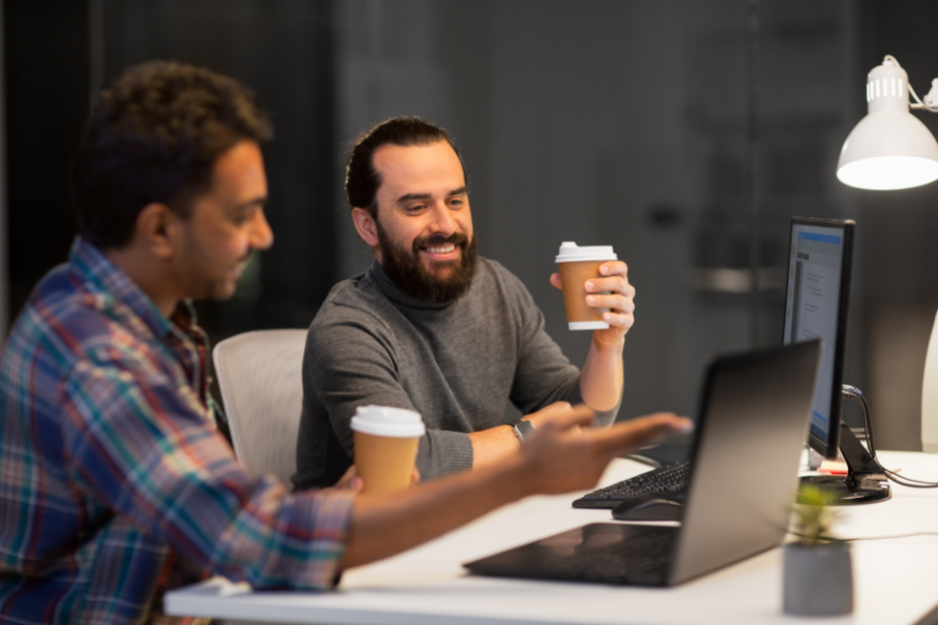 As a growing company in Quebec, it is to your advantage to do business with a Montreal ERP provider. In addition to supporting the local economy, you are choosing an experience that reflects your values. Both your corporate and personal values.
Let us explain.
Bluebee, a local company, is committed to providing its customers with personalized service. Personalized service is about getting to know you, as a person and as a company. It may sound benign, but we strongly believe that a good business relationship is crucial to the success of an ERP project.
Because implementing ERP software is more than just acquiring a new technology. It is a project! A project that takes several months to complete. And, once this project is completed, the client-supplier relationship remains.
At Bluebee, you are more than a number. It is by putting the human being at the heart of all our efforts that we know an irreproachable success. Indeed, year after year, we continue to develop valuable customer relationships. Thus, we achieve OUR business objectives, allowing us to innovate, and at the same time, allowing you to achieve YOUR business objectives.
As a Quebec-based ERP software provider, we are fortunate to be able to support local companies in their growth. It is a privilege to be able to assist you in this process and in return encourage the local economy.
We started from nothing, and today we are the company that we are. We are a growing company ourselves. No one understands better than us the small business managers who uses our services. We know that you need honesty and support.
Choosing an ERP partner should be more than selecting a technology tool. It is the selection of a long-term business relationship. You need to find the right partner for you and your business.
How does Bluebee stand out from other ERP providers in the region?
Quebec ERP providers are rare, but Bluebee still stands out! Other than the impeccable efficiency of our ERP product, we stand out because of our human side. Our strengths?
Getting to know your company and the professionals who work there is the best part of our job. We welcome each new client with inclusiveness. No question is invalid. No insecurities are invalid.
We listen and invest our time in your satisfaction.
Our ultimate goal is to make an ERP project an enjoyable experience. Our passion allows us to make this experience captivating. We break away from corporate norms, without breaking away from our professionalism.
Unlike the ERP giants, our pricing and service offerings are simple to understand and are not designed to maximize the cost. We believe that honesty is at the heart of a good business relationship. That's why we disclose every element that determines the cost of your ERP software.
No unpleasant surprises. Transparency is part of our corporate culture.
The effects of a transparent corporate culture impact the entire company and result in highly engaged employees.
So you can be sure you're dealing with dedicated and committed experts for your success!
Offering personalized service for us means offering a service similar to that of an in-house team. Quick exchanges, a better understanding of your needs and values. You'll think you have a team of ERP developers in your company.
Young and modern company mentality
For us, a young and modern company mentality translates into passion, spontaneity and innovation. When you are passionate about something, you believe in it. We truly believe that our ERP solution generates progress and makes business goals achievable.
We understand that different customer needs require different solutions. Our spontaneity allows us to easily adapt to each new challenge. And we meet each of these challenges with optimism and openness. It is these everyday challenges that fuel our passion.
How to start an ERP project with Bluebee?
The first step in starting an ERP project is to contact us. You can write to us or simply call us directly. Tell us briefly about your company and your needs. We will then be able to schedule an orientation call.
This brings us to the second step which is a short call of about 15 minutes. In this call we establish an initial contact with you. The purpose here is simply to guide the next steps. After this call, we can start our work which is to propose to you a suitable solution.
In the third step, we schedule a meeting (via video conference) for an exploratory demonstration of the Bluebee tool. You will have a clearer idea of the functions and their interface of use. This meeting is longer, lasting up to 2 hours. We will get to know each other better. A crucial moment in the development of our business relationship!
In the 4th step, we plan a final meeting where we will present to you your personalized solution. From this point on, the ball is in your court. Take the time to reflect on this investment.
Of course, we can adapt to other evaluation formats according to your specific needs. We are here to help you!
The process of implementing ERP software is long and complex. Our experts are there to support you, from the beginning to the end and even after! It is normal to have difficulty identifying your needs and the tools that can meet them. In this case, do not hesitate to contact our consultants who will be able to direct you to the right resources.