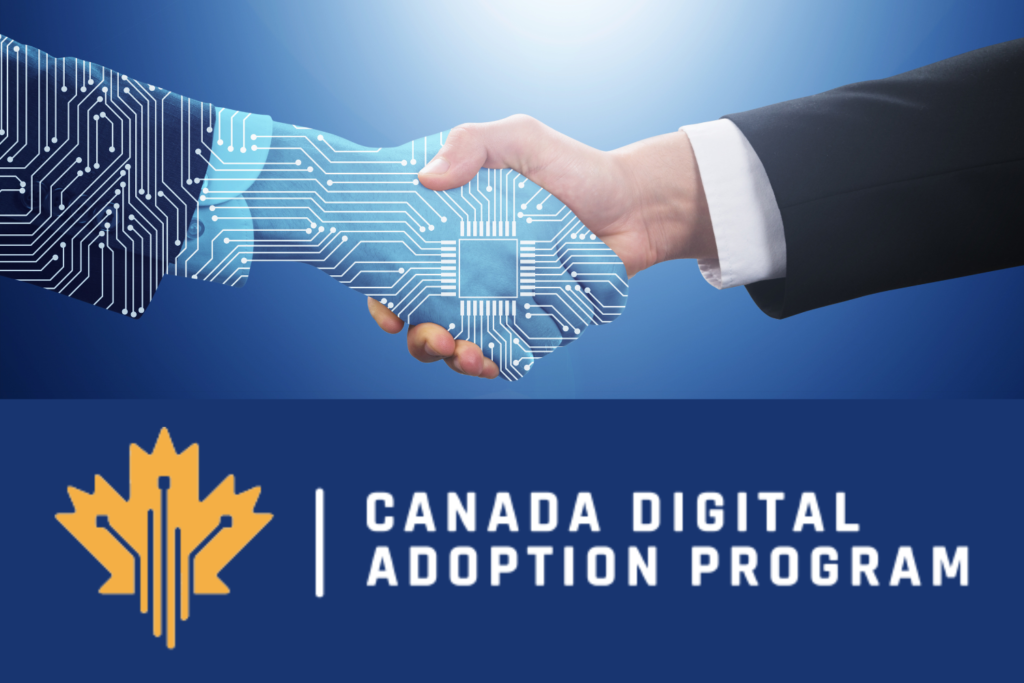 Finding a cheap ERP is everyone's dream, but is it realistic? With the CDAP program, it is!
With almost everything being digitized, in order for a business to grow, it must follow suit. The way Canadians do business has changed. To remain competitive and grow, SMEs must adopt new digital tools.
In order to promote the digital shift, the Canadian government has set up the Canadian digital adoption program (CDAP).
It is therefore a way to have access to consultation and solutions without emptying your pockets.
What is the CDAP program?
CDAP or Canadian Digital Adoption Program aims to help Canadian businesses go digital. With funding from the CDAP, businesses can increase their online presence and digitize their business operations.
Thus, the program helps to remain competitive and grow as a small or medium-sized enterprise.
The program offers 2 grants:
The Grow Your Business Online grant allows you to invest in setting up an e-commerce business. The maximum value for this grant is $2,400.
The Boost Your Business Technology grant allows you to get advice on technologies that would allow you to propel your business. This grant allows you to access the services of a technology transformation advisor.
It is therefore a $15,000 that is awarded to you to be able to benefit from advice exclusive to your needs. The grant also allows you to obtain a zero-interest loan from the Business Development Bank of Canada (BDC), up to $100,000.
A digital transformation advisor will help you understand if ERP is the solution to your needs. And thanks to this subsidy, you will be able to do it without emptying your pockets.
Do business with a digital transformation consultant
What does a digital transformation consultant do? Its role is to help companies establish a digital plan. Always aligning with your business strategy, it helps determine what your needs are.
He is therefore able to support you in the selection of a technological solution. This ensures you have the right tool to meet your organizational needs.
It is normal as a small business not to have the knowledge for a digital transformation project. This is the biggest advantage of doing business with a consultant. You can use his experience and knowledge to your advantage!
By consulting, you will be able to determine if ERP is really the solution you need! Thanks to the CDAP program, this service is becoming truly accessible!
How Does ERP Software Increase Your Profits?
ERP software increases your profits by automating several processes. To grow your business, one day or another, you will have to simplify organizational management. This is what an ERP comes to do.
Process automation saves you time and money, allowing you to focus on growing your business.
Here are some business areas that can be automated with an ERP solution:
accountability
sales/marketing/customer management
purchases
the production
cost assessment
inventory control
human resources
Features vary from provider to provider. It is therefore necessary to know how to select your ERP software.
The ERP system represents a big investment, which pays off a lot in the long term. This is why it is important to make the right selection. The digital transformation consultant and the PCAN program are making it all possible!
Do business with Bluebee
Bluebee may be the ERP solution for you! Talk about Bluebee to your consultant! We offer a powerful, simple and modern formula that will certainly meet your needs. Tell us about your project, and if you have any other questions, don't hesitate to contact us!
Bluebee is an ERP software located in Montreal. Doing business with a local ERP provider has several advantages. Established in Montreal for more than 20 years now, our ERP software now serves thousands of customers in their business processes.
Offering the best ERP software for food, manufacturing and distribution companies is what is important to us. Accessible from anywhere in the world, intuitive and easy to use, this is our vision of what an ERP should be.
Our team of advisors based in Montreal can answer all your questions and provide training if you want to get the most out of your new tool. Our ERP developed in Montreal is constantly evolving and we continue to offer updates and improvements year after year.