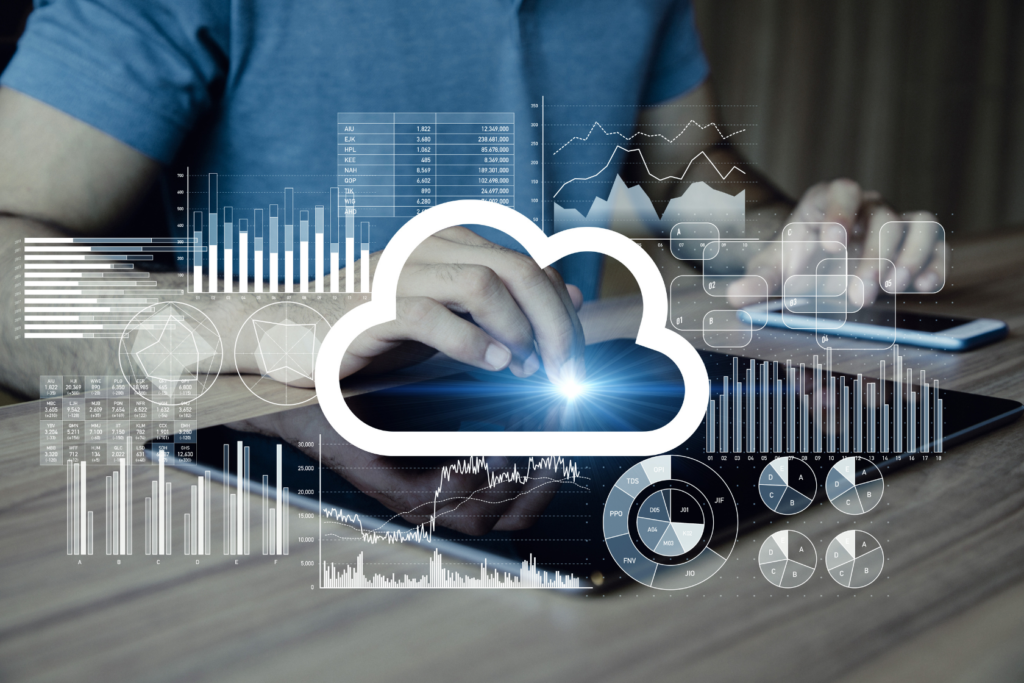 If there is one thing companies have learned over the past year, it's that they need to be more efficient and flexible. In your search for a technology solution, you have probably heard of the Cloud.
Technology
Several technologies are now available on the Cloud. In a context of digital transformation, the popularity of the Cloud is justified! SMBs as well as larger businesses are choosing cloud-based management systems as a springboard for business productivity.
If ERP is a new concept for you, check out this article to find out what is an ERP system?
You will understand in this article why the Cloud-Based ERP is essential as a vector of productivity and growth. But first, let's define Cloud-Based ERP.
What Is Cloud-Based Management Software?
We already know what an ERP (Enterprise Resource Planning Software) is, but what about the term "Cloud"? Cloud Computing is the process of outsourcing data centres to remote servers.
In summary, the data is accessible by a simple internet connection. It is therefore a synonym of flexibility for companies since they also have access to the same functionalities and applications as a traditional management software package. We will see below what differentiates a cloud management solution from a traditional ERP.
Two (2) ERP formulas on the Cloud
There are 2 cloud ERP formulas: cloud ERP and SaaS.
ERP SaaS (Software-as-a-Service) is software as a service. It is a solution available online for which you pay a monthly subscription. Rather than having an application installed, they are hosted on cloud servers in a single shared environment. This subscription service eliminates the need for management, scalable maintenance and data backup.
Users in SaaS mode are constantly working on the latest version of the software. Thanks to the updates which are done automatically, they benefit continuously from the novelties.
On the other hand, the ERP SaaS is limited in the flexibility of customization.
The Cloud ERP is also a solution as a service, available online, for which you pay a monthly subscription. Unlike SaaS, each customer's environment is unique and customizable. The version installed at the time of project implementation remains the same by default. Each company can choose to adopt the new versions at its own pace.
The advantage of Cloud ERP, such as Bluebee, is to have greater freedom and flexibility of customization. You can thus adjust the software according to your real needs.
What is the difference between an ERP that is Cloud-based or on-premise?
How does Cloud ERP differ from on-premise ERP (traditional solution)?
On-premise ERP is the traditional ERP that used to be the norm. The software is installed locally on company computers and servers. The company must therefore have the necessary equipment, i.e., a good number of servers. The software is also only accessible on computers connected to the servers.
Some providers offer on-premise hosting via web-based software. This means that the software is still accessible from anywhere. If that's an option you're interested in, Bluebee's on-premise software works that way.
This is what mainly distinguishes the Cloud ERP. Unlike on-premise ERP, cloud ERP is hosted by the provider's servers which are located remotely. It can therefore be accessed via an internet connection. It is therefore accessible at any time of the day and at any place with an internet connection.
At a time when mobility is the norm, the Cloud ERP is becoming a preferred option.
It is also interesting to look at the price differences. On-premise ERP often includes a license fee. Added to this are installation costs. Not to mention the installation of servers supporting the new device if you do not have one.
On-premise ERP is therefore generally more expensive.
In the case of ERP Cloud, the monthly or annual price includes the use of servers and updates. This makes it possible to better control an operating budget known in advance, without having to invest.
Why choose an ERP on the Cloud?
Cloud-based ERP has a ton of benefits for you and your company. Here are the benefits of an ERP hosted on the Cloud.
Benefit #1: Improve Your Performance
In general, the implementation of ERP solutions promotes business performance. But ERP on the Cloud frees your servers from the software. Indeed, ERP software is a cumbersome solution that takes up a lot of space on the IT infrastructure. If you are hosting locally, you will need additional hardware to avoid overloading the network.
With the ERP Cloud, you are guaranteed to work on a fast network, facilitating efficient work.
Benefit #2: ensure the security of your information
Storing confidential data remotely in the Cloud can obviously be scary. But contrary to popular opinion, the Cloud is often a solution to double data security.
Most clouds have tight data security and privacy regulations. So there is no reason to worry. In addition to cloud security, ERP systems also offer very high security parameters. You therefore double the security of your data.
Suppliers have indeed made great progress with the implementation of very strict standards to guarantee this security. You then benefit from safeguards that are often greater than what your company can afford…
Benefit #3: Save Money
As mentioned earlier, the savings made with a Cloud ERP weigh in the balance. You avoid buying physical equipment which, in addition to emptying your wallets, clutters your space. You will be able to take advantage of cutting-edge technologies at flexible rates.
Most importantly, you save on equipment maintenance services. As everything is outsourced, this responsibility falls in the hands of the supplier. This is what makes cloud ERP so attractive for small businesses that don't want to deal with the technical headaches of managing a server.
Benefit #4: a solution that adapts to your growth.
It is important as a company to reinvent itself. Without physical infrastructure to improve, a system that follows your business evolution becomes necessary. With a Cloud solution, you can contact your provider at any time to change plans and increase your storage needs.
No need to predict the costs of updating IT infrastructure, the Cloud adapts quickly and simply to you.
Benefit #5: accessibility
With the Cloud, you even have access to your management software anywhere, anytime, regardless of the device. It is therefore a way to easily work remotely.
The Cloud therefore gives you the advantage of having an ERP that travels with you and your team.
To conclude
A Cloud-Based ERP let you benefit from the best technology and a secure, accessible and powerful solution. You save on space and costs while benefiting from a tool that promotes and follows the growth of your business.
Do you need to implement ERP software?
Do not hesitate to consult the advantages of doing business with Bluebee Software for any questions or requests.